- Going out on the town, with a bottle of oxytocin in my purse because I had to pick it up from the vet for my cow and didn't want to leave it in the car to get too hot.
- Steak (burger) and (not or) a (chocolate) shake.
- Remembering to dip my french fries in my shake.
- Happy grass is happy


- Getting over a gallon of milk out of my little Dexter milk cow. Second freshening, much better than the first and I don't even milk her every day.
- Vacations with my momma. Driving up to Santa Fe, having lunch at Pasqual's (always good), shopping, driving up through the Chama Valley and stopping to whoop in Echo Amphitheatre and take pictures along Highway 84. Stunning view, beautiful country, great company.
- Knate Myers takes some GREAT balloon shots, like this one.


- Driving from Pagosa Springs towards Durango we watched the sun set in front of us and turn the clouds gold, then pinks and purples. It was a sunset that seemed to go on forever as the high clouds took the longest to lose light, then the contrails lit up bright and gold in the darkening evening sky.
As a side note, the drive up NM Hwy 84 is really one of the top 10 drives I've driven (though I've got a LOT to choose from). Not so much in a blizzard (though I will give you *interesting*), but most definitely in the fall as the road weaves through cool rock formations, cute little towns nestled in valleys and covered in bright yellow-leafed oak trees, seemingly never-ending fields of hay, sleek horses running along fence lines, and herds of fat-as-junebug cows contentedly ruminating. It must be absolutely stunning in the spring too!
- The most perfect fall picture:


- Baking a mountain of cookies (22 dozen) for the fire department BBQ and auction.
- I have the magic talent of being able to find seemingly the *best* place in any given town to eat with very little effort. I call unto me the power of the Internet in a great big assist, but it's just about as good of a magic talent as finding good parking damn-near all the time. An organic, bubble tea and sandwich bookstore in Farmington, NM. A really fantastic bistro with garlic and butter wafting into the parking lot dinner spot in Albuquerque. The best little diner in Durango. Awesome brunch place in Dallas. (Now…sometimes it is like shooting fish in a barrel, I'll give you…)
- Beautiful coffee and simply stunning breakfasts.


- Yes, I did drive all the way downtown for breakfast. With words like "green chili cheese biscuit," "chili rubbed thick cut bacon" and "we make our own chocolate and caramel sauces" on their menu, I was not about to pass it up.
- A neat little private property spot of hoodoos and neato eroded sandstone rock formations just south of Bloomfield, NM. Little hidden treasures on the road trip!
- This is quite possibly the most adorable engagement photos. THIS is the kind of portrait photography I'd like to learn to do.


- The other morning, the mist hung heavy and close and blanketed everything in a serene quiet and muted wonder. There wasn't anything that didn't look beautiful in the soft light and the world seemed new and much more of a curious thing. As I sat at the intersection of two roads listening instead of looking (as visibility was extremely limited) before my turn, I realized the danger of such beauty.
- Lucking into the Cowboy Poetry Gathering in Durango, Colorado during our visit there. Cowboys all over town!
- Red rocks and pine trees!
- Ten Steps to Mindfulness.
- It's always novel to watch the sun rise or set from above.


- When what I've got weighs heavy, regardless of how light of a burden it actually is, losing myself in another world, in a story in a place so different and so lovely is just the thing. Perhaps that's why my favorite books and movies (and the ones I gravitate to) are the ones full of hope, wonder, love and growth, simple and silly as they may be. I can't get into books that are downers, or heavy and deep. Life is full up on heavy and deep, I need something to cheer me up, not bring me down further.
- Roadside attractions, even as silly as the Continental Divide. A reason to stop, get out, stretch, and snap a picture.


- My friend (and former physics teacher) has taken some really stunning shots of fall back in Pennsylvania that I've been loving watching him add to. Here is a link to his photos.
- Putting a little gravel in my travel, unwind, unravel…getting right with my soul, taking a back road.
- Stopping for provisions before a road trip (as always – I love grocery stores). Apples, smoked gouda, lavender honey, cashews, seahive cheddar, grapes, fresh ground honey peanut butter and crackers.
- Bad ass garden gnomes.


- The earth is singing, this is what it sounds like. (the earth's magnetic field, anyway…)
- "Date night" dinner with hubsand. Ice cream sandwiches before dinner, then our standard green curry fried rice and tom yum soup at our favorite thai place.
- I can very, VERY, extremely, completely agree with everything in this post about Things The Pioneer Woman Loves About The Country, except the part about watching Real Housewives (which I would never do) and being too shy to run around the yard in my underwear (which I do more than you'd think).
- On that note, fantastic evenings full of breezes and perfect temperatures (81 degrees says my weather station) and bright and high moons that I didn't even have to use the flashlight I brought out with me. I did, in fact, get out of the bathtub and put on only socks to go outside and let the horse out of her stall and to let Grace out of the paddock and give her hay. I just end up having to brush hay out of and off of everything, nothing to brush if out of this way. The socks were mainly so that I didn't get stuff stuck to my feet when I put them in the clogs. The horses snuffled me and decided they didn't like my stinky Lush bath bomb smell and chuffed at me disapprovingly.
- Casual 4am walks:
- The Space Shuttle Endeavor flying over the Texas Capitol.


- An apple I ate the other day, a crispy Honeycrisp, tasted so much like fall, that I was instantly transported back to Soergel's Orchards back home, surrounded by pumpkins, corn stalks, candy corn, cider, and the wonderfulness of their fall season. Next year, I'm thinking I'm going to have to go home for a couple of weeks in the fall. I REALLY really really miss the maples changing color.
- I'm still on the hunt to make perfect macarons. Here's some good tips.


- As we left the hotel room in Albuquerque, we got to see all the hot air balloons up and floating across the highway, away from the city then up and back to the park ("The Box"). Really cool to see!
- Any place called Kung Fu Cowboy Tea Cafe can't be bad!
- Your cow can text message you when she's in heat? Sign me up!
- New show "Vegas" fills that hole while Longmire is off season. It's got cowboys, Dennis Quaid, early Vegas in the sixties, that guy from the Shield and more cowboys.
- Going on a road trip for chicken fried bacon and stopping to see the giant dime in a box in Dime Box, Texas and then stopping for pie and ice cream on the way home.


- "If we feel chronically angry or bitter in an important relationship, this is a signal that too much of the self has been compromised and we are uncertain about what new position to take or what options we have available to us. To recognize our lack of clarity is not a weakness, but an opportunity, a challenge and a strength." -Harriet Lerner, The Dance of Anger
- Still the best sound in the world: the genny starting up when the power goes out.
- My hubsand, who gets all the up-ins for bringing me chocolate cake.
- ICE CREAM MAN!
- Girlie night movie, a stunningly perfectly clear Barton Springs pool and a day of amazing food.
- Rainbows (and rain)


- Finding the best spa ever in Dallas. I soaked, was massaged, scrubbed, scrubbed some more, oiled, rubbed, I sweated, soaked, chilled, moisturized, rubbed, soaked and had cucumbers put on my face by amazing spider-monkey-like Korean women within an inch of my life. And it never felt so good.
- I won at the State Fair with the bacon fried cinnamon roll (but lost on parking, fried chicken and waffle on a stick and a corny dog). The roll was so good and even better when we bellied up to the milk bar. It did take a lot to keep down the ultraviolence though.
- I stood outside for a long time staring up at the stars the other night. They were bright and shining and made me feel small in the vast giantess of that endless shining sea all that it beholds. Perhaps it's less navel gazing needed and the more looking up.
The reminder of perspective was very much welcomed. Thank you, Huntsman. You're still my favorite.
- I woke up with a strange pink glow on the opposite wall in a place that was far too low to be the sun rising. I got up and peeked out the bathroom transom window to see this a good 35 minutes before the sun rose. Stunning!


- Donuts and gunpowder.
- Bluegrass, brunch, a cup of hot tea, view of the river, and nice, cool, cloudy, misty weather and sitting by an open window. Perfection!
- Oh, the dichotomy…


- DIY Infused Spirits, Fast and Slow
- Cool weather that allows me to bust out my wool newsboy hat.


- Relationship tips that are pretty spot on
-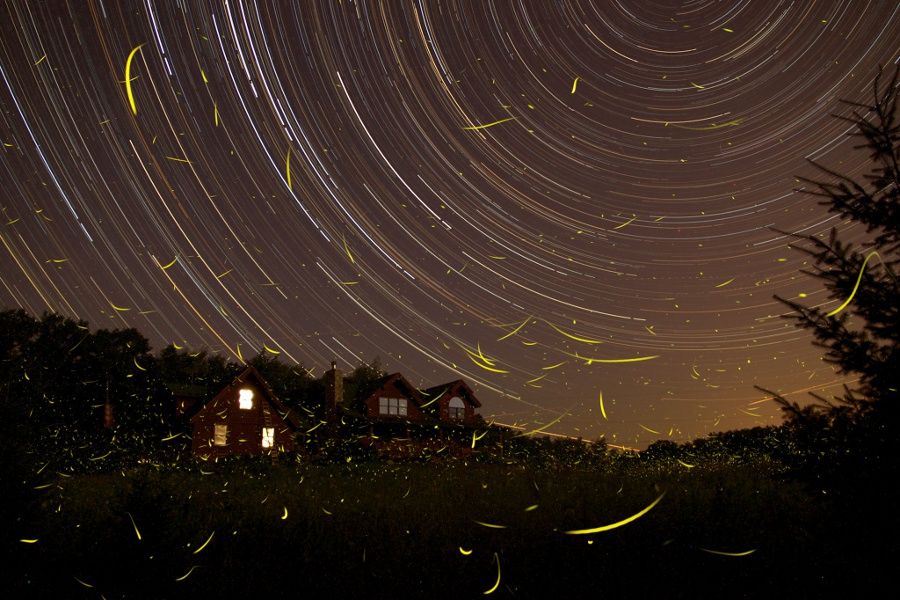 From Mike Rosinsk, the photographer: I meant to capture about 45-55 minutes of 20 second exposures 10:40pm – 11:30pm, but fell asleep, woke up 3am…..and went outside to retrive the set-up. The T1i battery had died, even though hot night the dew point was enough below the actual temp the lens stayed clear. The moon rose around 12:30am, and its reflection is seen in the 2 garage windows as it ascended.
- The most stunning lava/volcano photographs I've ever seen.

- Art Outside:
50′ long, five person, bicycle-powered lighted rattlesnake
a bat-cycle (with flapping wings)
interpretive dance featuring a mantis (on stilts), fire poi-spinning and other things I don't understand (it must be art)
a girl in black light body paint and not much else
raver boys and girls with glow sticks, light up hula hoops or poi, and furry boots
a thick haze of green smoke that left one with a dry mouth and a contact high
all sorts of great food vendors (including beloved Ararat!)
fireworks shot from hats
I felt out of place but was for the most part able to enjoy the spectacle and the weird of it.
- One of the best things about living out here in the country (there are many) is walking the quarter mile to my mailbox and listening to the evening quiet. The wind blowing through the trees, the crickets chirping, the crunch of gravel under my feet. The sun had set, the sky was turning dark, the spiders spinning their webs (that I almost walk into) and the nice and quiet.
Desiderata
Go placidly amid the noise and haste, and remember what peace there may be in silence.
As far as possible without surrender be on good terms with all persons.
Speak your truth quietly and clearly; and listen to others, even the dull and ignorant; they too have their story.
Avoid loud and aggressive persons, they are vexations to the spirit.
If you compare yourself with others, you may become vain and bitter; for always there will be greater and lesser persons than yourself.
Enjoy your achievements as well as your plans.
Keep interested in your career, however humble; it is a real possession in the changing fortunes of time.
Exercise caution in your business affairs; for the world is full of trickery.
But let this not blind you to what virtue there is; many persons strive for high ideals; and everywhere life is full of heroism.
Be yourself.
Especially, do not feign affection.
Neither be critical about love; for in the face of all aridity and disenchantment it is as perennial as the grass.
Take kindly the counsel of the years, gracefully surrendering the things of youth.
Nurture strength of spirit to shield you in sudden misfortune. But do not distress yourself with imaginings.
Many fears are born of fatigue and loneliness. Beyond a wholesome discipline, be gentle with yourself.
You are a child of the universe, no less than the trees and the stars; you have a right to be here.
And whether or not it is clear to you, no doubt the universe is unfolding as it should.
Therefore be at peace with God, whatever you conceive Him to be,
and whatever your labors and aspirations, in the noisy confusion of life keep peace with your soul.
With all its sham, drudgery and broken dreams, it is still a beautiful world.
Be careful.
Strive to be happy.
© Max Ehrmann 1927